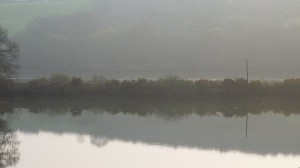 It's a fantastic thing to be able to be creative in the studio environment, but it's also extremely tiresome.
My mind is constantly working, pondering over details from today's recording, preparing itself for tomorrow's songs, rewriting lyrics, thinking up arangements… I do fall asleep, but I tend to wake up around 5 a.m., 5.30 on a lucky day. But today Kenneth beat me! He's been up since 2 a.m.!! Poor chap (as they say in England…).
I think this worked out band's in need of a break. So today we'll work until lunchtime. After that we'll go visist the famous Eden Project which is situated close to where we are, and after that we'll drive into Falmouth (on the wrong side of the road) to meet our contact Jonathan from the Falmouth Maritime Museum who's been very helpful in assisting us with details concerning the nautical theme on the album.
But up until then it's hard work. Got to go. The others are calling me now. Today we're going to try the trickiest song of them all: 13 Knots. A challenge! You'll understand why when you hear it 🙂
/Martin