….with the sound of music !
Gårdagen bjöd på strålande sol och lunchpromenad över kullar fyllda med ramslök, primula violer och bluebells.
England kan vara så fruktansvärt vackert!
Lars sprang, vi andra flåsade uppför backarna och kände oss som åldringar lite till mans.
Försökte få Åke Linton att springa nedför fälten sjungandes "the hills are alive", men han avböjde dessvärre.
Vi hann också med att spela in grunder till inte mindre än tre låtar 🙂
Här får ni några titlar: Wreckers' weather, Safe crossing och  Endurance.
Framåt kvällen lagade vi thaikycklinggryta som vi avnjöt i den för kvällen iskalla matsalen.
De må vara bra på vackra utsikter, söta stugor  och marmelad, engelsmännen, men landskampen i isolering vinns av Sverige utan konkurrens.
Jag tackar min lyckliga stjärna för att jag tog med mina raggsockor.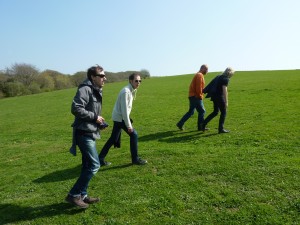 /J