Så var det dags att åka så långt söderut som till Malmö.
Det var längesedan vi spelade där, och då som förband till Blackmore´s Night på Slakthuset.
Nu var det konsert på Blå båten och ingen Richie Blackmore där så långt ögat kunde nå.
Spelning både fredag och lördag kväll och en heldag ledig tid i Malmö däremellan.
Fredagens konsert bjöd på utsålt och väldigt glada människor i publiken!
Vi introducerade något som vi kallar för "fritt val" i andra set. Det innebär att någon i bandet får välja vilken låt vi skall spela. Igår gjorde Kenneth ett ganska safe val med "I won't be here in the morgning" som det ju faktiskt inte var särskilt länge sedan vi spelade, men vem vet vad som kan komma i kväll. David hintade om att han tänker välja "Immortal" om det blir hans tur, och den har ju t.ex. Lars aldrig spelat, så det kan bli spännande. Vi (och när jag säger vi menar jag förstås herr Ekh) sålde osannolikt många plattor efteråt så folk var helt klart nöjda – roligt!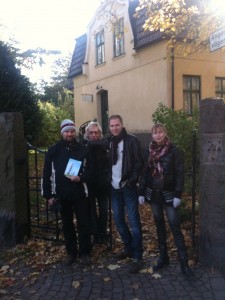 Utanför Hilleröds vandrarhem
Idag har vi traskat runt på stan i Malmö och fikat och tittat i affärer.
Alla visade stort engagemang i sökandet efter mitt favoritläppglans som tyvärr är på utdöende.
Kenneth tvingade in oss på Matas när vi nästan hade gett upp, och BINGO! Där fanns det!
Jag köpte på mig ett litet lager för säkerhets skull.
Ja, jag vet att jag här visar upp skrämmande likheter med Maria Montassami, men det är inget att göra något åt.
I just LOOVE my choko glaze number 42!
Mycket mer än så blev inte inköpt. Jag tror att David köpte en ficklampa och Kenneth smög vid ett tillfälle in i en chokladpralin-affär, men någon shopping av värde presterade vi inte.
Däremot passade David på att stress-testa sig hos några scientologer på torget. Tydligen är han inte alls stressad av West of Eden – skönt att få det vetenskapligt och bortom alla tvivel bevisat en gång för alla!
David gör stress-test.
Dags att vila en stund innan det är dags att åka tillbaka till Blå båten igen.
Vi hörs
/J